On Wednesday, June 21, an enthusiastic group of both veteran and new MSON community members gathered at Severn School for the Annual Workshop which focused, this year, on the types of learning experiences that add value to students' lives. Running concurrently were MSON's two inaugural cohorts: The Cohort on Pedagogical Inquiry and the Leadership Cohort for School Administrators, comprising faculty and administrators from nine different Malone schools.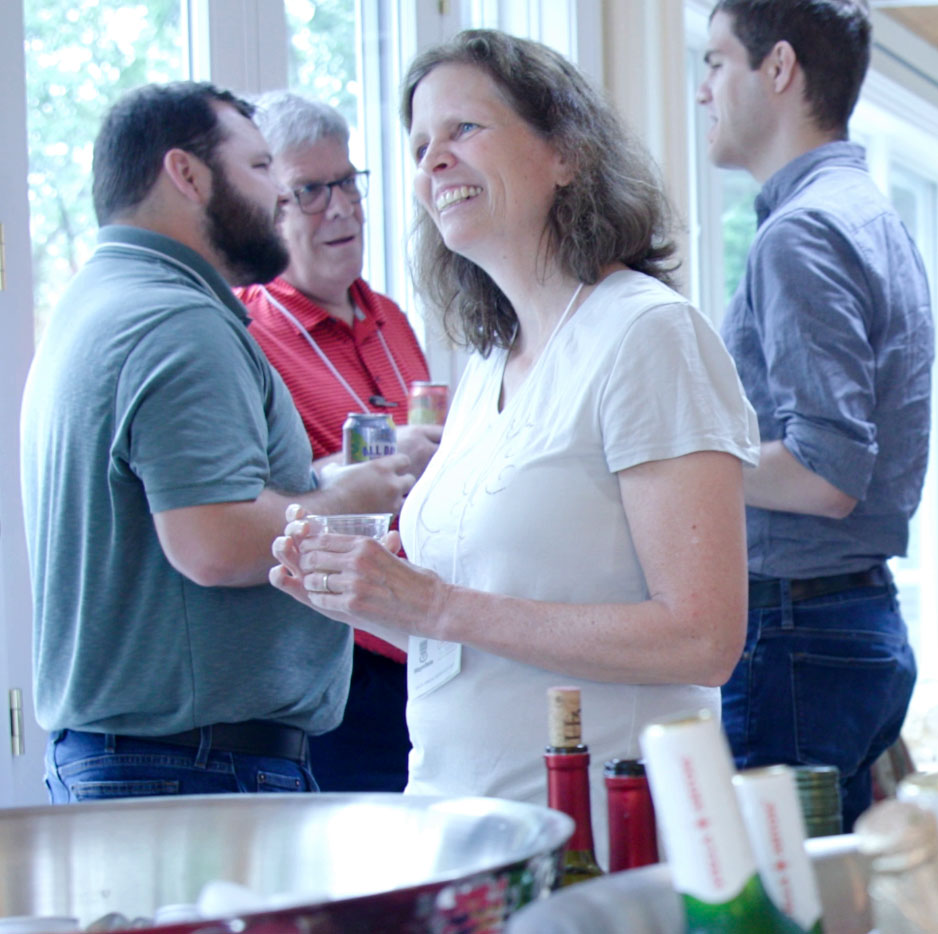 Attendees enjoy happy hour on Wednesday evening.
Wednesday evening, after the opening session, everyone enjoyed getting to know one another at happy hour, hosted by Severn's Head of School, Doug Lagarde, and his wife, Toby. Thursday was a marathon of a day, in which we heard from several instructors, as well as from students representing University School of Nashville, Casady School, and Brownell Talbot School. Workshop sessions were largely experiential, starting with Julien Meyer's (Severn School) captivating session using a trade exercise he purposefully adapted for the online learning environment. The session was conducted entirely on Zoom, with participants joining class either from individual laptops or Severn's dedicated MSON video conferencing room. I think I can speak for everyone when I say that we certainly gained more empathy for students navigating unfamiliar technology set-ups!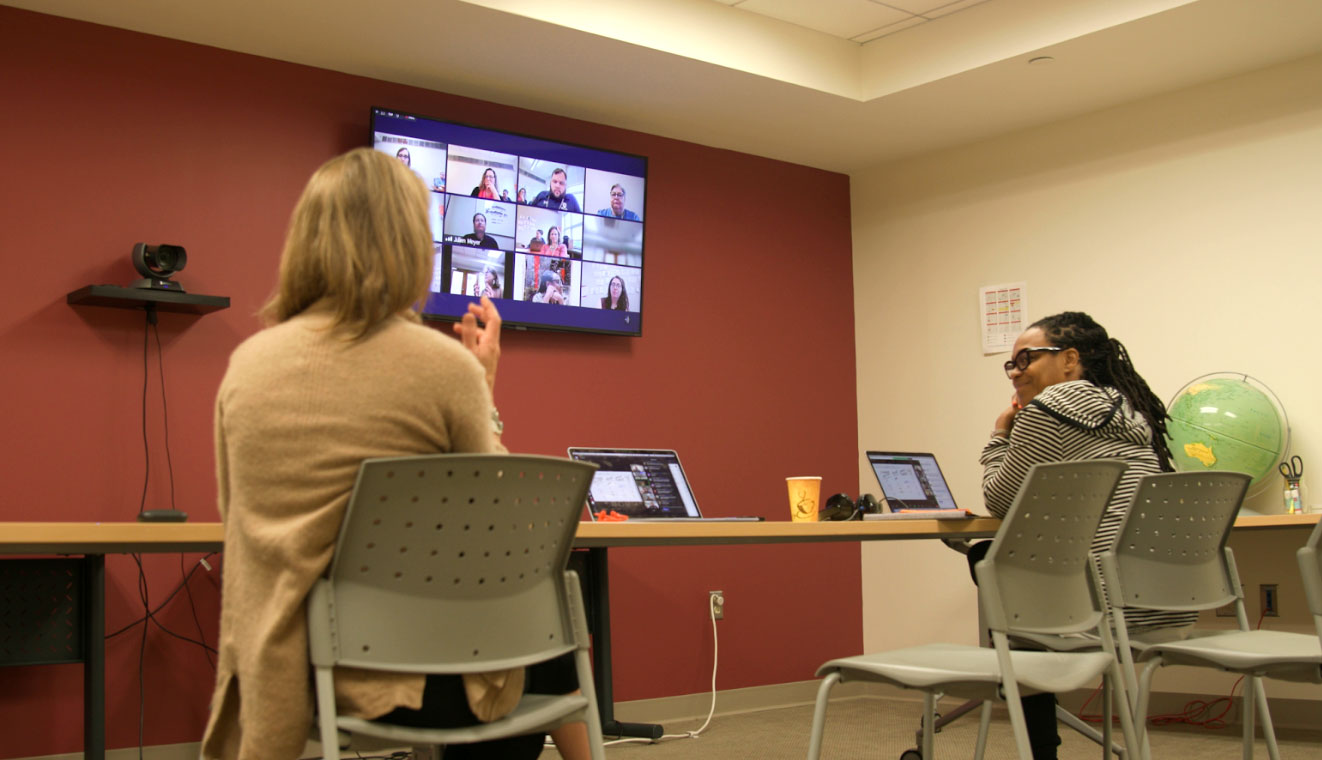 Stephanie Hogan and Dr. Sidra Smith experience the student video conferencing perspective.
Stephanie Hogan (Waynflete School) facilitated a session on student well-being, guiding us through a number of quick, simple, and thoughtful ways to help students ground themselves in their MSON class, and Dr. John Aden (Chadwick School) had everyone scribbling down notes about films they plan to watch after his session on using film and vlog assignments to generate critical thinking and discussion. We were reminded of the importance of connection by Julia Maxey (Severn School), who added Mentimeter quizzes to our "tool box" of options for polling students and using the results as conversation starters. Dr. Sidra Smith (Severn School) had us scouring the internet for images of high density housing from our various hometowns, demonstrating how she leveraged students' local knowledge as an entry point for her course on urban New York. And our Interim Dean of Instruction, Linda Rodriguez (St. Andrew's Episcopal School), engaged our group in a conversation about ChatGPT – how it works, what it can and cannot do, and how it may challenge us to rethink some of our assessment practices. Her session was a great set-up for the group to then discuss an initial AI policy for MSON.
But it wasn't all work! We were treated to a campus tour by Severn student, Ella Foote ('25), who generously shared her time and insights, and we enjoyed a truly fantastic dinner at Carrol's Creek Cafe, overlooking the Annapolis City Marina. And no one will forget the decor at The Graduate Hotel – you had only to glance at the nautical art, Maryland flags, and crab images covering every inch of our temporary "home away from home" to know you were in the Mid-Atlantic region! We wrapped up Friday afternoon, leaving participants time to explore Annapolis or journey further to Washington, D.C. or Baltimore.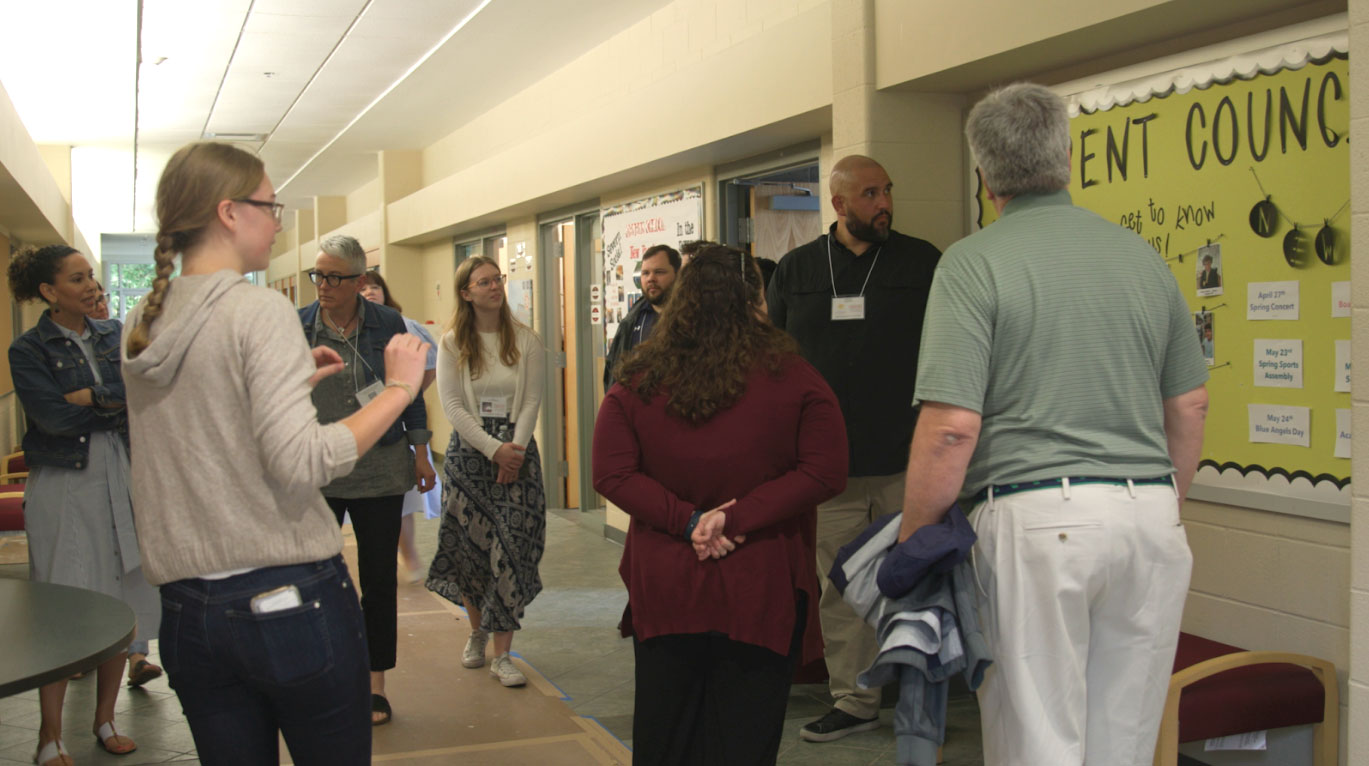 Severn student, Ella Foote, leads a campus tour.
I especially want to thank Operations Manager, Chesley Graham, for her attention to detail, as well as our friends at Severn School for making our visit both memorable and meaningful!
Finally, I am delighted to announce that we were able to create a video highlight reel of the Workshop this year. It's just another part of defining MSON for a new age, and it is posted below. Enjoy!