Join us for a redesigned MSON Annual Workshop in Summer 2021!
We are taking the best of our traditional and beloved in-person event and merging it with the best of virtual professional development for the MSON community.
The attention to detail and enthusiasm for education shows clearly among the group; I feel honored to be here and look forward to further collaboration with everyone.
To have an opportunity to connect and grow professionally with a group of like-minded people is such a motivating experience.

Open to all MSON teachers, academic liaisons, technical liaisons, and those at MSON schools who may want to learn more about the program. New MSON teachers starting in the 2021-22 school year are strongly encouraged to attend, as this will function as a capstone to new teacher training.
Led by MSON's own Claire Goldsmith and Ben Taylor, Day 1 will provide fun and energetic spaces to meet others involved with MSON and build relationships, connect experienced and novice MSON teachers, and give members of the community the opportunity to weigh in on issues of importance to the program.
The day will commence at 11am Eastern/8am Pacific with a community gathering. Throughout the day, there will be sessions for the whole group as well as those aimed at smaller groups: teachers, academic liaisons, and technical liaisons. Topics will include:
Promoting MSON at your school

Supporting students in MSON

Teaching breakouts by discipline
The day will conclude by 5:30pm Eastern/2:30pm Pacific.
Day 1 events are intended for MSON teachers and liaisons only.
Price: FREE

We have invited all Malone Schools humanities teachers to join us for a special, daylong summer professional development opportunity through MSON with R.E.A.L. Discussion. R.E.A.L. helps humanities teachers focus on student discussion skills, mostly in 9th and 10th grade. It dovetails philosophically with what we teach and value in MSON and at our schools, as it's all about getting students to talk to one another in productive ways. R.E.A.L. promotes equity in terms of teaching all students a structure for participation, and its training and implementation are not a heavy lift for teachers.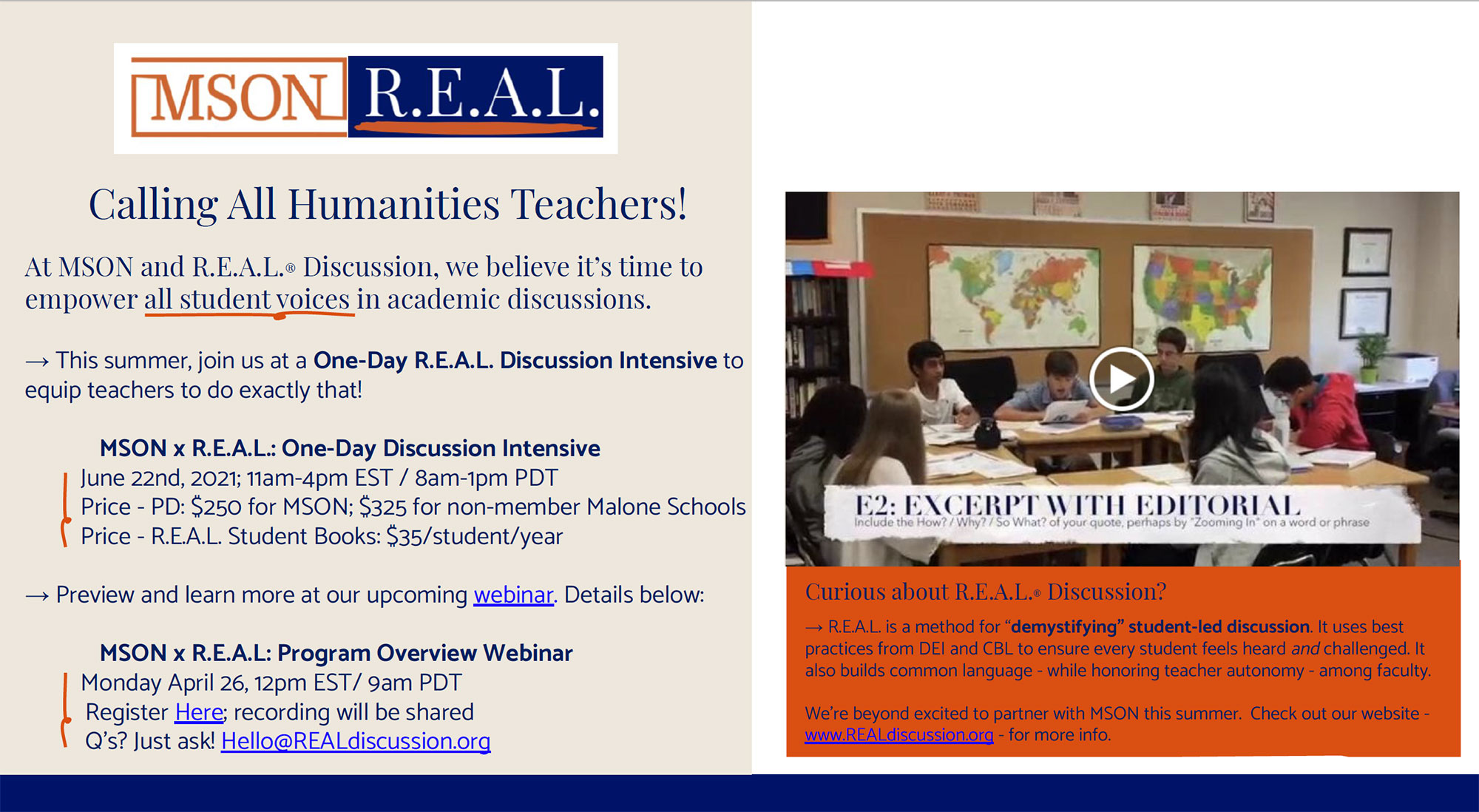 Day 2 events are intended for teachers at our schools regardless of their involvement with MSON who are looking to improve class discussions.
Price: See here

The culmination of our Workshop is the Supercharge Summit, a large and exciting gathering with teachers from across MSON and our "sister" consortium, Bay Area BlendEd. All MSON and BlendEd teachers and liaisons/coordinators—as well as anyone at BlendEd and MSON schools interested in sharpening online pedagogy—are invited to join us for the Supercharge Summit! 
For several years, MSON has worked with BlendEd to host joint professional development, including a popular Supercharge Saturday series in spring, 2021. June 23rd will feature a showcase of excellence from across the two consortia. Participants will have the chance to attend mini-classes across disciplines that highlight skills in:
Online and hybrid synchronous / asynchronous balance and lesson flow
Building online and hybrid class community
Online and hybrid assessment
As with the Supercharge Saturday series, the day will feature a collegial and welcoming spirit, an emphasis on actionable tips, tricks, and hacks, and the chance for educators to connect based on shared interests.
Day 3 events are intended for MSON teachers and liaisons and anyone at MSON schools interested in online pedagogy.
Price: FREE
To sign up to attend any or all days of the MSON Annual Workshop, please click here
If you plan to attend Day 2 with R.E.A.L. Discussion, please sign up and pay here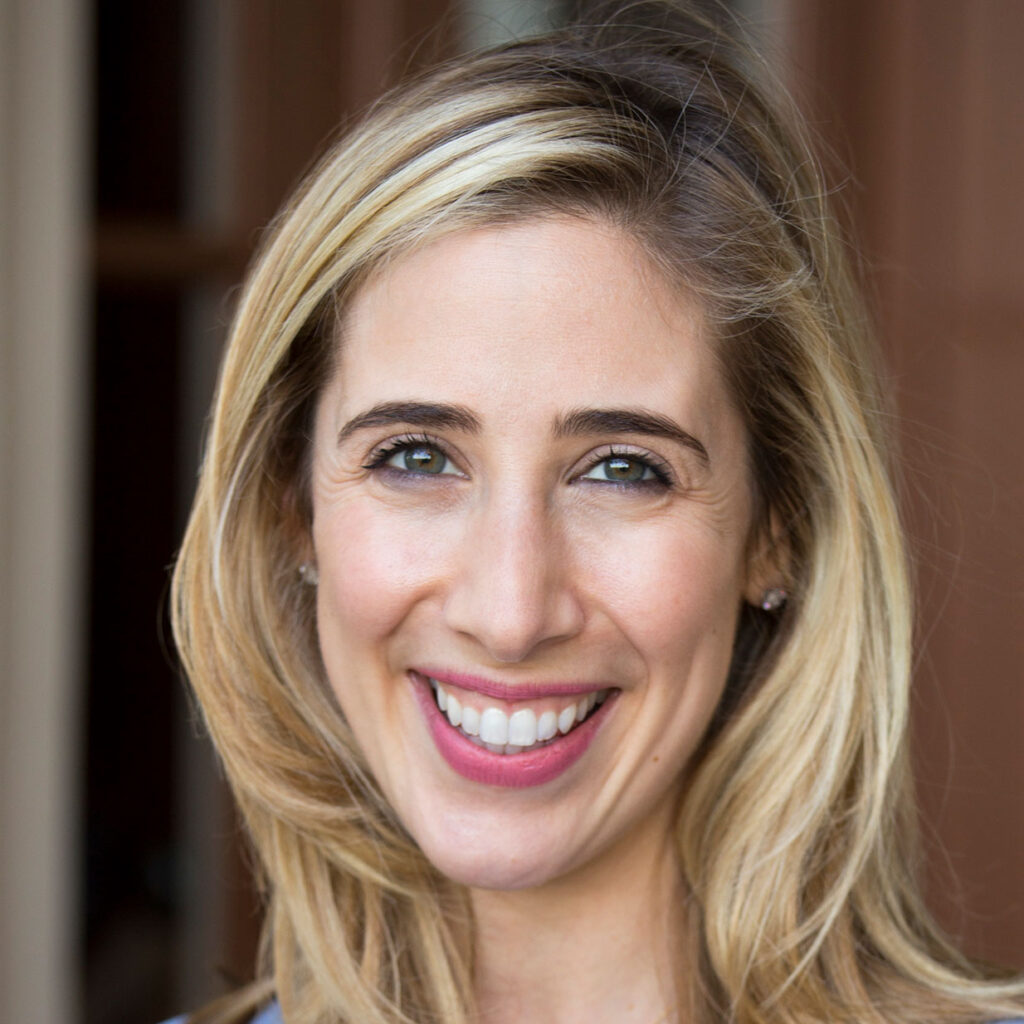 Claire Goldsmith
MSON's Executive Director since 2016, Claire helped to develop the program while in the leadership of the Stanford Online High School. During her five-year tenure there, she served as Director of Admissions and External Relations, taught history, and oversaw the school's Malone Scholars Program. Previously, Claire taught English and French and coached debate at the Harvard-Westlake School in Los Angeles. Claire is a member of the Boards of Trustees of the Enrollment Management Association, the Winsor School, and Wilshire Boulevard Temple, and serves on the Institute for Educational Advancement's Caroline D. Bradley Scholarship Committee. She holds an AB from Harvard College in History and Literature and a master's degree in Policy, Organization, and Leadership Studies from the Stanford Graduate School of Education. She studied in Paris on a Harvard fellowship at the Ecole Normale Supérieure and was a Fellow with Education Pioneers. She writes and speaks nationally on online learning, school community, and educational innovation.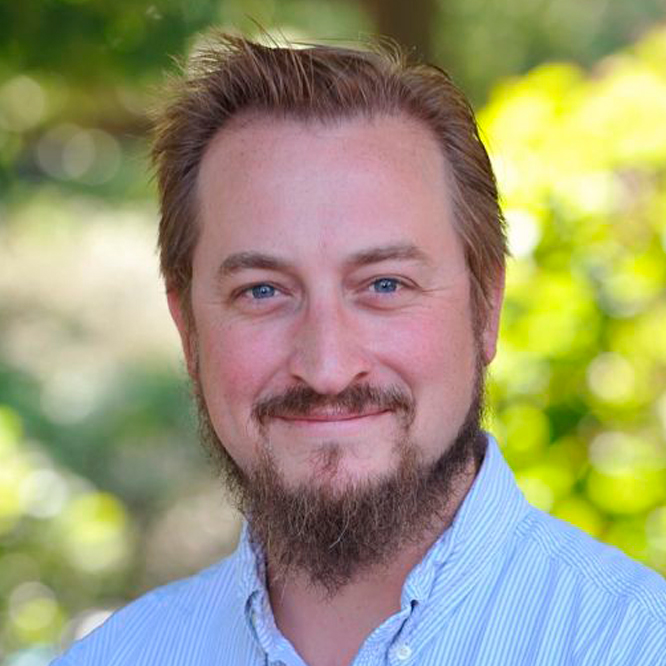 Ben Taylor
Ben taught Modern Physics in MSON from 2015-2017. He now splits his time between his MSON Dean of Instruction role and his work as Dir. of Academic Technology at Hopkins School in New Haven, CT. After leaving the world of Experimental Condensed Matter Physics in 2003, Ben immersed himself in the world of independent school education at Hopkins. To date Ben has taught grades 8-12 in an array of physical science courses including calculus based physics and Modern Physics—courses that open minds to both structured critical thinking and staggering possibility. In that span he also served his school as coach, adviser, Head Adviser, MSON teacher, and many other administrative and student-centered roles. His focus has, since day one, been on innovating in his classroom; making big changes to his methodologies and materials always with one goal in mind: students must retain and enjoy the concepts they are taught.