When I tell the story of the Malone Schools Online Network, I often recount how, on the morning after the 2016 election, students gathered in one of our classes with tears in their eyes, dismayed at the election results. Students from another part of the country then joined the virtual class—having just come from a Trump rally.
In our polarized country, it is not common for high school students to learn alongside peers who not only hold opposing political views but also spend most of their days in totally different contexts. MSON students attend 26 different schools, live in different regions, and go home each night to different dinner table conversations. But when they join synchronous seminars twice a week to study Arabic or quantum mechanics or creative writing together, they form real relationships that extend well beyond our program.
Since the last election, we have created more courses that purposefully engage students across divides. Last week, I got to guest teach in one of them, "Political Identity, American Democracy, and Civic Engagement." I joined Waynflete School Head Geoff Wagg in teaching students the basics of debate (I was a debate coach back in the day, so this was a trip down memory lane for me!) and then judged their subsequent debates on Federalism.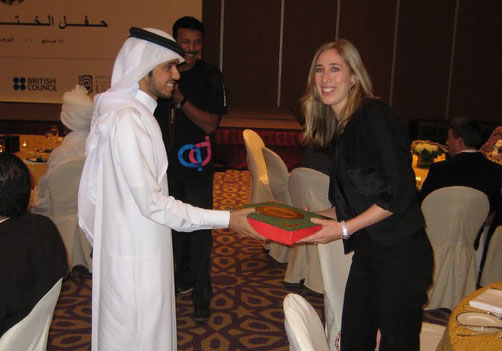 Claire winning an award for teaching debate in Qatar, 2010
The students reminded me of the magic of MSON. Juniors and seniors from all over, who are working through their own political identities and making sense of 2020, gathered to engage in civil discourse. Their teacher guided them in history and argumentation, but he also acknowledged their college application stress, showing remarkable empathy and care (while  also managing his own school through the COVID-19 crisis).
The course's magic came through as well because it modeled so much of what we have taught teachers for years:
Put relationships first

Use class time for discussion, debate, collaboration

Make assessments authentic to the students and to the moment, when possible
I left the class refreshed and proud of our community and our mission—and grateful for the schools that have joined us in doing this important work.
Finally, a brief update:
We are running 36 classes this year and welcomed 9 new teachers to the program. At 480 semester enrollments, our enrollment is up about 30% from last year. (See

one of our teachers

and

one of our students

profiled.)  

This summer, through two weeks of our Annual Workshop and 6 weeks of boutique professional development workshops with member schools, we served roughly 1,000 teachers across the country and in Canada. 

We continue to advise schools on hybrid learning (see, for example,

this article

on our teachers' experiences in hybrid classrooms) and advance the conversation about online and hybrid learning, such as my recent panel discussion for California Association of Independent School Heads and

my appearance

on local television.

Our network is stronger than ever, with our schools linking arms to face challenges together. (See

one example of a program

at a member school reaching out to embrace schools everywhere.)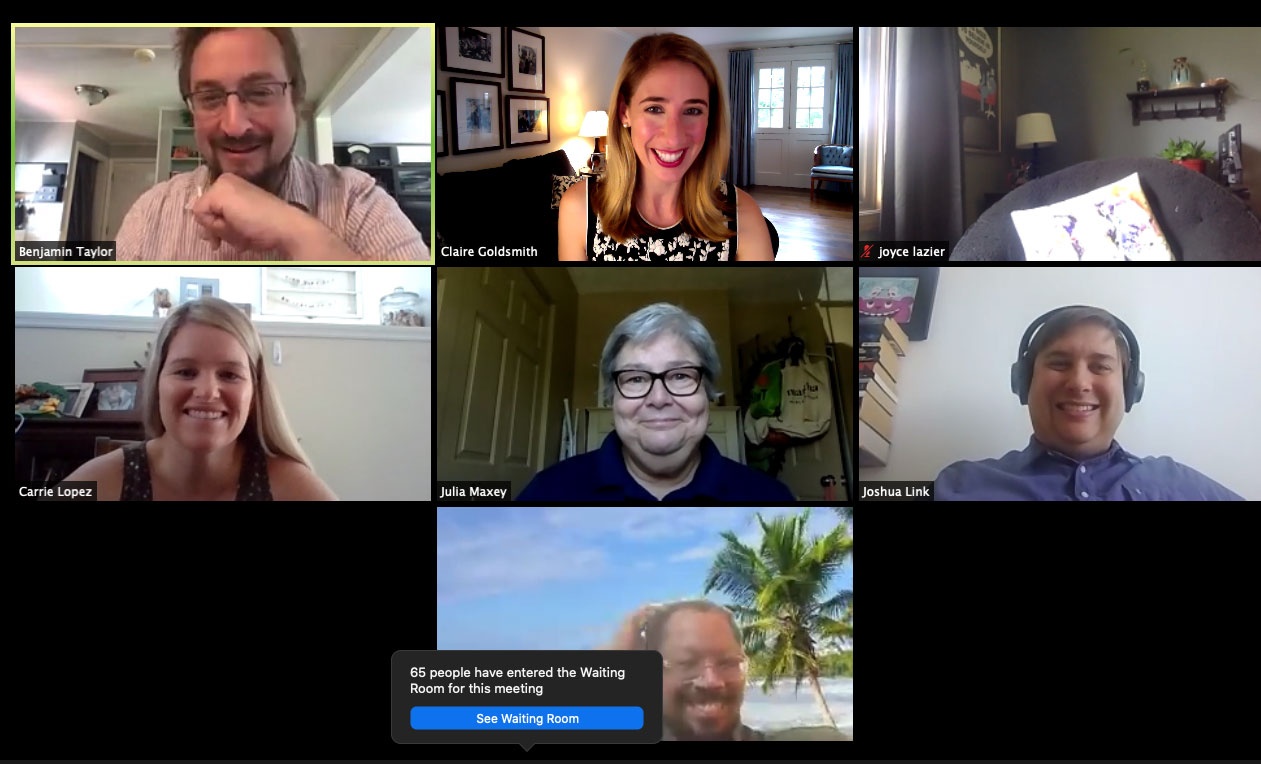 Several of the Lead Faculty from our Annual Workshop in the "green room" before attendees entered.
Food for Thought
Some of my top reads from the last few weeks
Three takes on teaching in the hybrid classroom:

1. The Do's & Don'ts of Hybrid Teaching, EdWeek
Three perspectives from public school teachers across the country
2. A Day in the Life of a Hybrid Teacher, EdWeek
The perspective of one teacher in a private school in MD
Teaching the 2020 Election:
1. Responding to the 2020 US Election, Facing History and Ourselves
Guidance for teachers on discussing the election with students and helping students process their emotional responses, find accurate information, and consider the impact of the election. 
2. School Administrators: Are You Ready?, Teaching Tolerance
A 2016 perspective on keeping schools safe around an election.

Other Education:
1. Didi's Voice, The Washington Post
The profile of one Black student at the forefront of an elite magnet school's reckoning on its admissions practices.
2. The Richmond Hill Experiment, The New York Times Magazine
The moving story of Covid-19's varied impact on high school students—by one of my favorite education writers, Paul Tough.
3. Dear Future Me: For 26 Years, NJ Teacher Had His 6th-Graders Write Letters to Their Future Selves. This Year He Got to See Them Opened, The 74
The headline speaks for itself!
4. Will the Pandemic Lead More Colleges to Offer Credit for MOOCs? Coursera is Pushing for It, EdSurge
We have been talking about a MOOC resurgence for some months. A nuanced explainer.
On My Bedside Table:
I have Something to Tell You

, Chasten Buttigieg

The Overstory,

Richard Powers

Caste,

Isabel Wilkerson

Engine of Impact: Essentials of Strategic Leadership in the Nonprofit Sector,

William F. Meehan III and Kim Starkey Jonker

Flush,

Virginia Woolf